Moscow is a city of rediscovery. It's a place whose residents are reclaiming and resuming their heritage, a world of classics; from art to architecture to literature and music. Some 25 years after the collapse of the Soviet Union, around 35 million tourists visit Russia, and many of them start with its capital.
CNBC's "Trailblazers" host Tania Bryer had a personal tour of the city by one of its most well-known faces, the supermodel and philanthropist Natalia Vodianova. Together, they explored Moscow's iconic Kremlin and St. Basil's Cathedral in Red Square, one of the model's favorite restaurants Cafe Pushkin, and visited Vodianova's home town of Nizhny Novgorod, where her charity the Naked Heart Foundation opened its first children's play area. Vodianova also recommended her favorite shops and attractions in the capital, including the world-renowned Bolshoi theater.
Russia's GDP per capita is $8,748.40, according to World Bank data.
Natalia Vodianova is born in Niznhy Novgorod, Russia.
Moves to Paris to model and signs to agency VIVA Model Management.
Marries English aristocrat Justin Portman, and gives birth to their son Lucas Portman.
Photographed by Juergen Teller, while visibly pregnant, for Marc Jacobs in a campaign that "kind of shook the fashion world" according to Vodianova.
Founds the Naked Heart Foundation, after the school siege in Beslan, a charity that builds play areas for children.
Daughter Neva Portman is born.
Gives birth to son Viktor Portman.
The Naked Heart Foundation holds its first Love Ball on Valentine's Day at the 16th century Tsaritsino Estate in Moscow, raising $5 million.
The charity opens a play park in Beslan.
The foundation launches its "Every child deserves a family" program to create a system of free support services for families of children with special needs.
Divorces Portman and begins dating Antoine Arnault, CEO of luxury brand Berluti and son of LVMH Chair Bernard Arnault.
The 100th play park opens.
Vodianova becomes ambassador for the Winter Paralympic Games in Sochi.
Arnault and Vodianova's second son, Roman Arnault, is born.
The Fabulous Fund Fair is held at London's Roundhouse Theatre, which raises more than £470,000 ($613,000) for the foundation.
She exemplifies modern Russia: From somber Soviet era origins, Vodianova emerged as a fashion tour de force and has graced the cover of every major international magazine, including 71 Vogue covers. She's a muse to the world's top designers, appearing in over 400 runway shows and starring in a multitude of advertising campaigns, including some of the fashion world's most coveted such as Calvin Klein, L'Oreal, Versace and Guerlain.
She was nicknamed "Supernova" by photographer Mario Testino after appearing on the runway two weeks after giving birth to her first child Lucas, at the age of 19. But Vodianova's early life was the polar opposite to the one she considers herself blessed with now. She was brought up in a poor neighborhood of Nizhny Novgorod, working on a fruit stand to support her mother in looking after her half-sister Oksana who has autism and cerebral palsy. Now, her life is largely dedicated to her Naked Heart Foundation, the charity she was inspired to set up after the tragic Beslan school siege in 2004.
$1 is 59.2 rubles at the time of writing. An upscale hotel the center of Moscow is upwards of $150 a night, while a top price ticket to the ballet at the Bolshoi costs up to $250.
"It was almost difficult to be there, just because I couldn't comprehend that I was that girl"
Natalia Vodianova
Vodianova's home town of Nizhny Novgorod is sometimes referred to as Russia's third capital, and while it is not as well-known as Moscow (400 kilometers to its west) and St. Petersburg, next year the spotlight will be on Nizhny as one of the host cities of soccer's World Cup.
But when the young Vodianova was growing up in a poor neighborhood, Nizhny was under Soviet rule and travel to and from the city was restricted. "It was almost difficult to be there, just because I couldn't comprehend that I was that girl," Vodianova said of her childhood apartment during a recent visit. Vodianova's Naked Heart Foundation built its first children's playground in the city in 2006.
"To me, Red Square is all about dreams and ambition. You know, here so many people come and they dream of a better life."
Natalia Vodianova
Moscow's Red Square at the heart of the city is a place Vodianova was only able to visit for the first time aged 17, on her way to Paris as a new model. CNBC's Tania Bryer started her Russian adventure there, the capital's most famous landmark and a UNESCO World Heritage Site.
Red Square is at the heart of Moscow and together with the Kremlin, was listed as a UNESCO World Heritage Site in 1990. Contrary to popular belief, Red Square's name is unrelated to the red brick buildings that surround it or even the Soviets. The name is actually derived from the word "krasnyi," which meant "beautiful" in Old Russian and only later came to mean red. It is now the main meeting place for Muscovites and home to numerous festivals, concerts and the iconic Victory Day Parade held every May that showcases Russia's military might. It's also a place to respect fallen war heroes.
"To me, Red Square is about dreams and ambition … Here so many people come and they dream of a better life, they dream of travels and they dream of success. And I guess, yes it's very inspiring," Vodianova told "Trailblazers". But growing up, the capital seemed inaccessible to her.
"Moscow you know, it seemed so far away, another planet. And of course now it became my capital, the capital of my country and I celebrate it, but for such a long time it was, just a beauty that was unimaginable … And I guess that's why it's so meaningful as well."
Tourists can visit different buildings in the Kremlin complex, including the Armoury Chamber, a green-roofed "treasure house" showing 4,000 exhibits, the cathedrals and palaces and the Ivan the Great Bell Tower. Separate tickets are needed for each. Check the Kremlin website for details.
On Red Square's western side is Moscow's famous fortress: The Kremlin. Housing five palaces and four cathedrals, it is Europe's largest fortress, home to the federal government. The Kremlin is often used to mean the office of Russian President Vladimir Putin, and even though it's his official residence, he lives outside the city in his sprawling Novo-Ogaryovo home, commuting to the capital via a route closed to other traffic when necessary.
The Moscow Kremlin, to give it its full name, was built for Vladimir the Great between the 14th and 17th centuries by Russian and Italian architects and is the oldest part of Russia's capital, a complex of buildings overlooking the Moskva River. The gold-domed Church of the Archangel was built between 1505 and 1508 and many Russian tsars and princes were buried there, while during the same time period the 82 meter high Ivan the Great Bell Tower was constructed, the focal point of the Kremlin buildings.
Moscow is 7 hours ahead of EDT, so if it's midnight in New York, it's 7am in Moscow.
One of the most recognizable buildings in the world with its candy-style turrets, St. Basil's Cathedral stands at the southern end of Red Square. Also known as the Cathedral of Vasily the Blessed, Pokrovsky Cathedral and officially, the Cathedral of the Intercession of the Most Holy Theotokos on the Moat, it was built in the 16th century on the instruction of Ivan the Terrible. It came under state protection in the early 20th century and became a museum in 1923. Inside, there are nine elaborately decorated chapels and a small garden.
"You absolutely should visit Bolshoi, it's gone from strength to strength. (An) incredible experience."
Natalia Vodianova
The Bolshoi Company - which produces both opera and ballet performances - was founded by Catherine the Great in 1776, making it one of the oldest entertainment companies in the world. The theater was redesigned by Russian-Italian architect Alberto Cavos after a fire in 1853 and has been rebuilt and renovated several times during its history, including in 1942 when restoration work started after it was bombed during World War II, reopening in 1943.
In 2005 the theater closed for a complete refurbishment, described on its website as a "colossal, world-level project," which ended up being beset by problems, missing its original 2008 reopening deadline. The curtain finally came up on the $700 million project in 2011 and saw it restored to its pre-revolution opulence. It was a meticulous task, with dried red beetles imported from South America to dye velvet on the auditorium's seats their original 19th century color and fir and papier-mache panels used to improve its acoustics.
Winter runs from mid-November to mid-March when the temperature is between -10C and -15C. Spring and autumn temperatures reach about 10C, with late spring the best time to visit Moscow.
The venue has three stages – the New Stage, Historic Stage and Beethoven Hall and productions this fall include Benjamin Britten's "The Young Person's Guide to the Orchestra", ballet "Romeo and Juliet" by Sergei Prokofiev and Handel's three-act opera "Alcina".
Food, shopping and sights
Vodianova loves Moscow for its hospitality, architecture and food. "My Moscow is a very busy Moscow. It's full of very inspiring people … great artists. Great thinkers … and architecture and beautiful skies." Here are some of her top recommendations.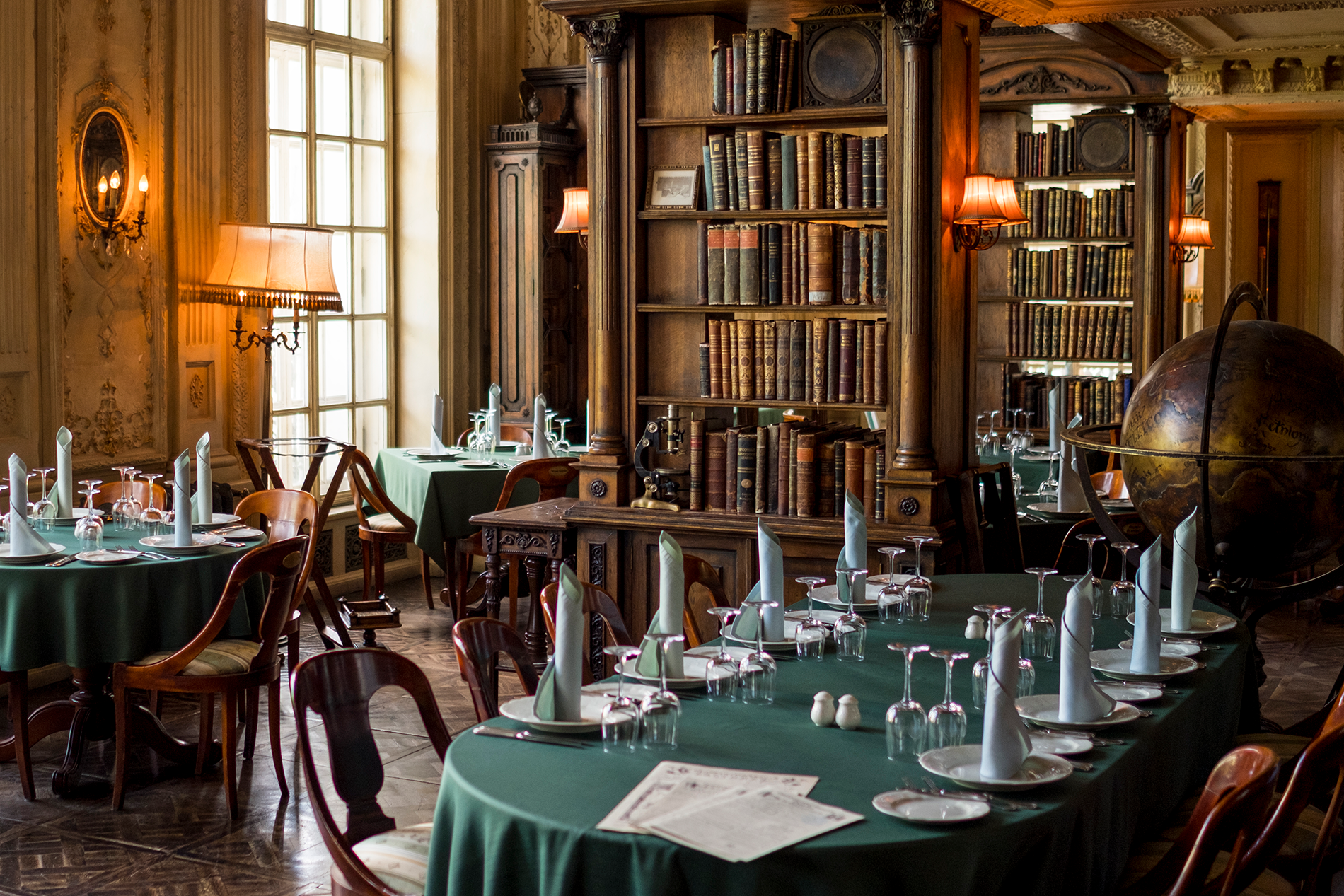 Cafe Pushkin
Entering Cafe Pushkin, a 24-hour restaurant 1.5 kilometers north of Red Square, is like stepping back into pre-revolutionary Russia, but in fact it was only founded in 1999. In many ways it exemplifies modern Russia - a country revisiting and embracing its classical cultural heritage.
The restaurant is named after Alexander Pushkin, an early 19th century poet, playwright, and novelist of the Romantic era who is considered to be the founder of modern Russian literature.
"The food is incredible but it also has this fusion, a little bit of a French cuisine to it, because it's actually meant to be in the style of 19th century restaurants. At the time everything was fusion and everybody spoke fluent French, here in Russia. And so our culture was very different, we were very Europeanized," Vodianova explained. She recommends the blinis, thin European-style crepes, which at Pushkin are served with Beluga caviar, and when she's in Moscow enjoys porridge, a popular dish in Russia made with a variety of grains. She's also a fan of pelmeni, a type of meat or fish-filled dumpling.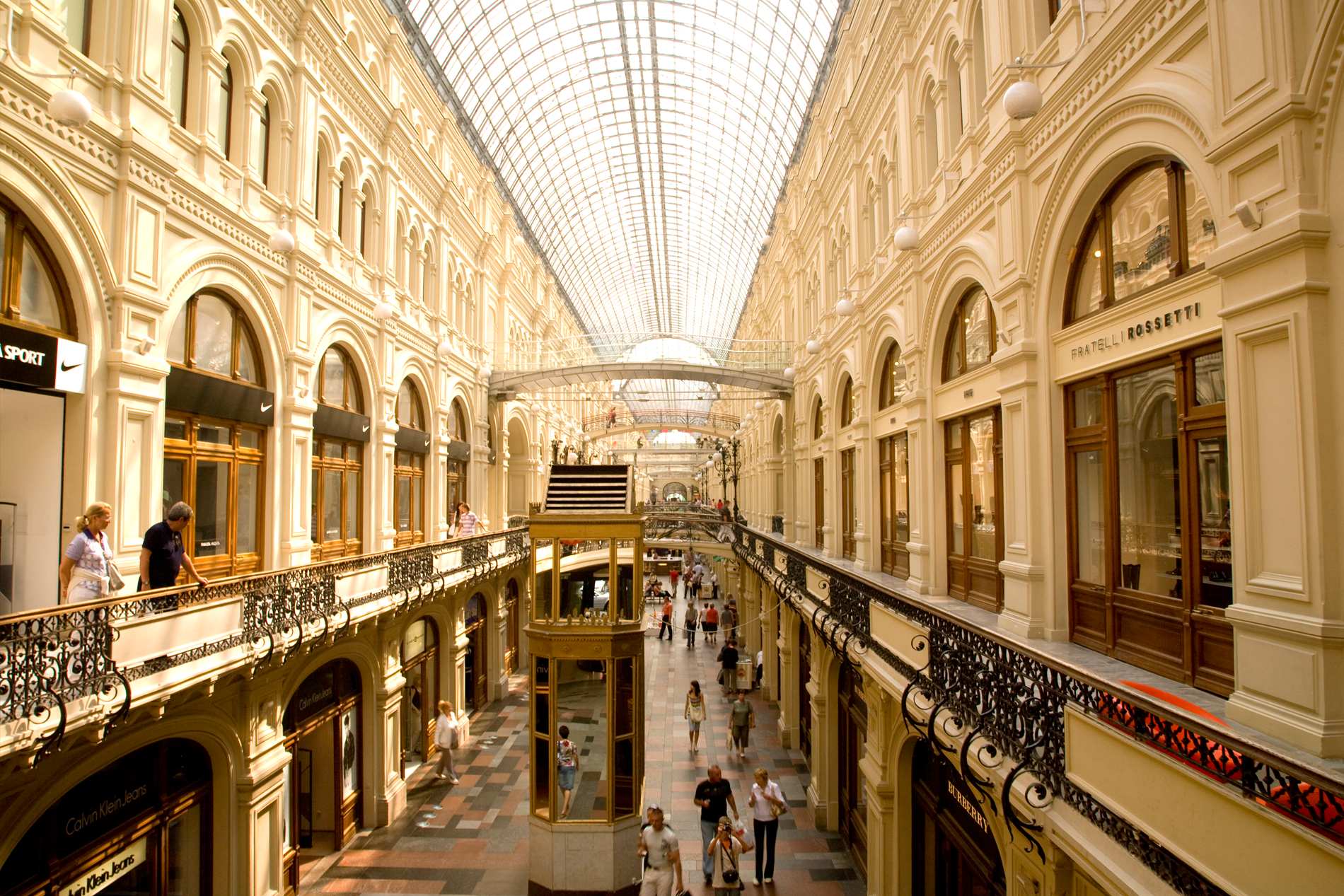 Shopping at GUM
The supermodel also recommended a visit to shopping mall GUM (it stands for Glavni Universalni Magazin, which means State Department Store) that faces Red Square. The striking building was constructed in the late 19th century and now features upscale brands such as Jil Sander, Lacoste and Burberry, as well as one of Vodianova's favorite ice-cream parlors.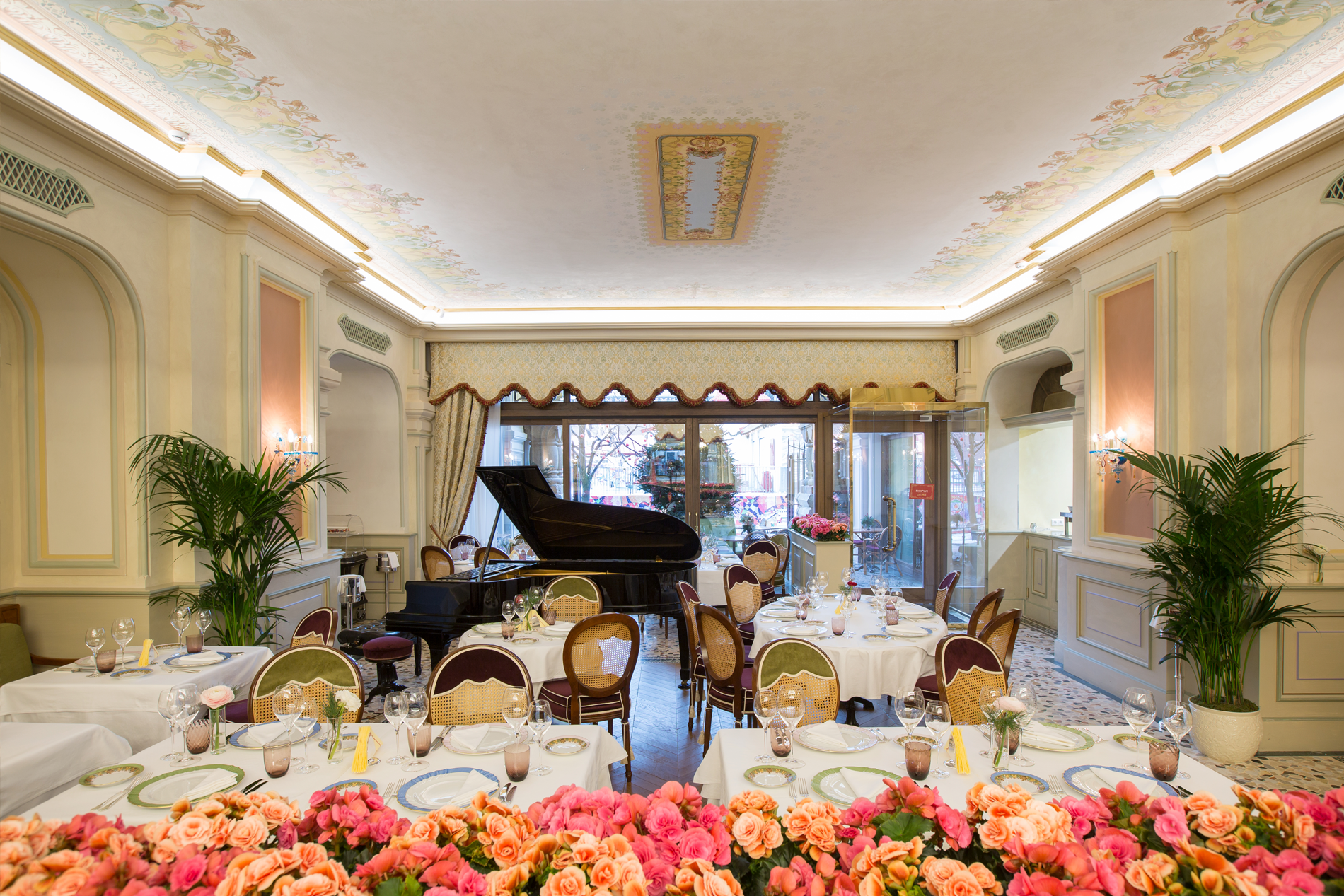 Bosco Cafe
Italian Bosco Cafe in the GUM shopping center is also a highlight on a visit to Moscow for Vodianova. While it's a little touristy given its location close to Red Square, the supermodel loves it for its family atmosphere and focus on service. "Russians are very flexible, if you ask them for something different than what is on the menu, they will make it for you. Hospitality is really important ... The client is first," she explained.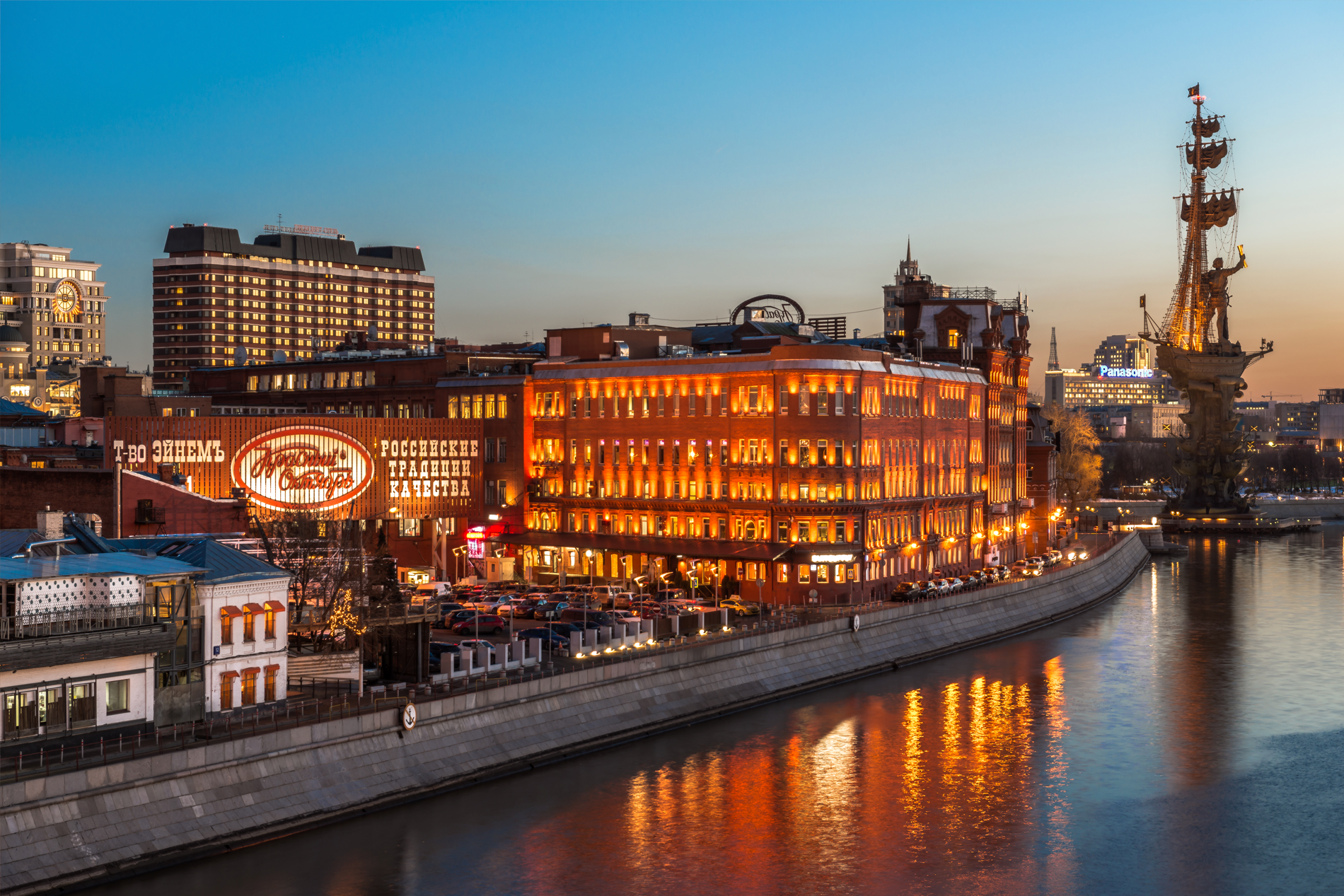 Red October
Red October started life as a chocolate factory that the young Vodianova dreamed of visiting. Situated on Balchug, or Bolotny Island, a curving piece of land just south of Red Square in the Moskva River, the red brick complex now houses a gallery, bars and restaurants.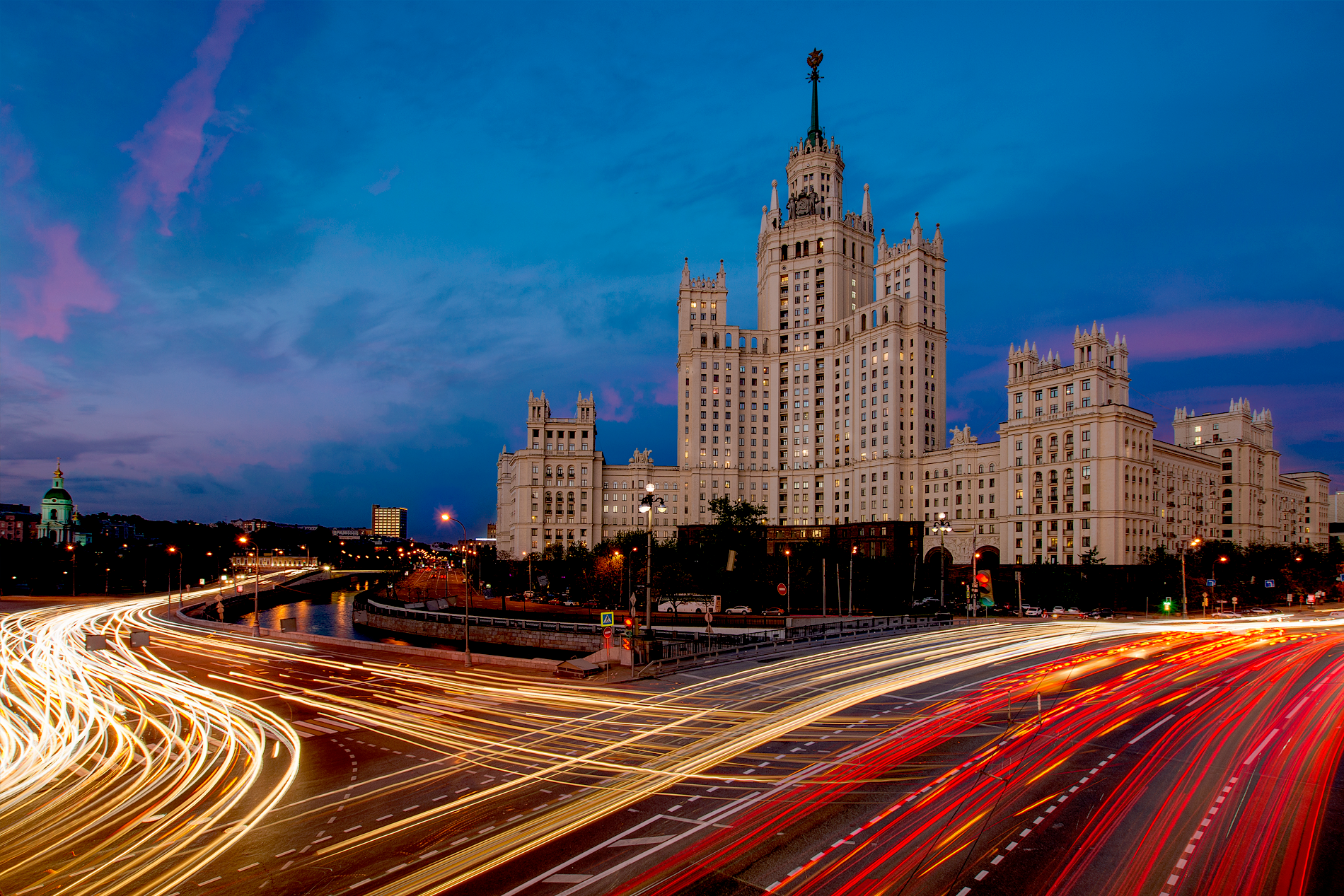 The Stalinist Skyscrapers
Vodianova said visitors should spend time simply walking around Moscow, taking in its architecture, which she calls "incredible," especially the Stalinist's high-rise buildings (sometimes known as the Seven Sisters). The wedding-cake like structures, topped with a high tower, were influenced by New York City's Chrysler and Empire State buildings and include Moscow's Ministry of Foreign Affairs, finished in 1950, and the 34-storey Hotel Ukrania (now the Radisson Royal Hotel Moscow).
Credits
Writer: Lucy Handley
Design and code: Bryn Bache
Editor: Matt Clinch
Presenter and Executive Producer, Trailblazers: Tania Bryer
Executive Producer, Trailblazers: Martin Conroy
Associate Producer, Trailblazers: Michelle Blackwell
Images: CNBC, Getty Images and Bosco Cafe