Hugh Evans was 2-years-old when Bob Geldof's charity concert Live Aid beamed images of starving people in north Africa around the world in 1985, raising £30 million ($40.3 million) to help them. And although Evans, now a humanitarian, was too young to remember the event, it ended up being the inspiration behind the "enormous" poverty awareness concert in New York's Central Park that he organized almost 30 years later.
Neil Young, the Foo Fighters, the Black Keys and John Legend performed at 2012's first Global Citizen Festival in the U.S. and 60,000 people watched from the park's Great Lawn. But unlike the original Live Aid, this wasn't an event people could buy tickets for; instead they had to undertake an "action" to help tackle global poverty, such as lobbying a politician via Twitter.
"Our job is just to create the tools, the technological tools so that you can call your member of Congress with great ease."
Hugh Evans
"I think that that's what's beautiful about Global Citizen, that it really is in the hands of the citizens themselves. Our job is just to create the tools, the technological tools so that you can call your member of Congress with great ease." Evans told CNBC's "The Brave Ones."
It's these actions that have been Evans' focus, a way to create a movement of people to influence decision-makers to make policy commitments and continue to deliver aid. They are the aims of Global Citizen, the organization Evans founded in 2008 (originally as the Global Poverty Project) with an overall goal to end extreme poverty by 2030.
Global Citizen's latest European concert was held during the G-20 summit in Hamburg in July, where leaders including Canadian Prime Minister Justin Trudeau appeared on stage in support of empowering women and girls in the fight for equality. Evans' influence is such that he got Michelle Obama and first lady of pop Beyonce on stage at the Global Citizen concert in New York in 2015, while earlier this year he visited Malawi with Rihanna on her first trip as Global Partnership for Education ambassador.
"I guess I've always been fairly focused. I've never really worried about what everyone else is doing. I always from a young age wanted to do my own thing."
Hugh Evans
Evans' passion to change the world began one night in a Philippines slum. Aged 14, he had won a fundraising competition run by charity World Vision and traveled from his home town of Melbourne, Australia to spend time in Manila to learn about international development.
There he met a teenager called Sonny Boy, and the pair spent a day exploring his home, a slum on the top of a rubbish dump nicknamed "Smoky Mountain". Evans spent the night with Sonny Boy's family, lying with six others on a slab of concrete with little to protect them.
Evans is born in Melbourne, Australia.
At 14, becomes one of Australia's schools' biggest fundraisers, raising money during a 40-hour famine.
Travels to the Philippines with World Vision, where he stays the night in a Manila slum and meets Sonny Boy.
Visits the international criminal court in The Hague to gain an understanding of international development law.
Sets up World Vision's Young Ambassador Program while volunteering at an orphanage in South Africa
Starts law degree and founds Oaktree Foundation.
Organizes a Make Poverty History concert at Sydney's Opera House. Bono and Pearl Jam perform and Kevin Rudd, who was then campaigning to become Prime Minister, committed to double foreign aid.
Graduates from Monash University with a BA in law and science and founds the Global Poverty Project, which later becomes Global Citizen.
Graduates from Cambridge University with a MPhil in International Relations.
New York Global Citizen Festival concert in Central Park, funded by billionaire Sumner Redstone for $1.5 million, and headlined by Neil Young.
Runs first Global Citizen Week, culminating in a festival in Central Park.
"You know, often we (hold) ourselves back out of our own fear of either who we are, or what we stand for, or what we don't stand for."
Hugh Evans
"It was intense. And just lying there that night it struck me that it was pure chance that I was born in Australia and Sonny Boy was born there. We don't deserve, or we have no entitlement to the lottery of life that we have. And so it struck me that night that this was going to become much bigger and much more important for me. I had to do something. And it became this insatiable passion," Evans said. Returning home, he lost touch with Sonny Boy, but the pair were to be reunited nearly 20 years on — more of which later.
The young Evans, by his own admission, enjoyed a comfortable childhood in small-town Melbourne, Australia, with the hospital he was born in as well as his high school and local church within a 2 mile radius of home. But he had a vision far bigger than his beginnings.
After the Philippines trip, Evans spent an academic year at Woodstock, an international boarding school near Dehradun, a town close to the Himalayan foothills in India. One day, he had a revelation. "It just struck me at that stage that if a 15-year-old kid from Melbourne who knows very little about the world and just has this desire to learn could be here, I just realized that human beings are capable of things that often we think we're not.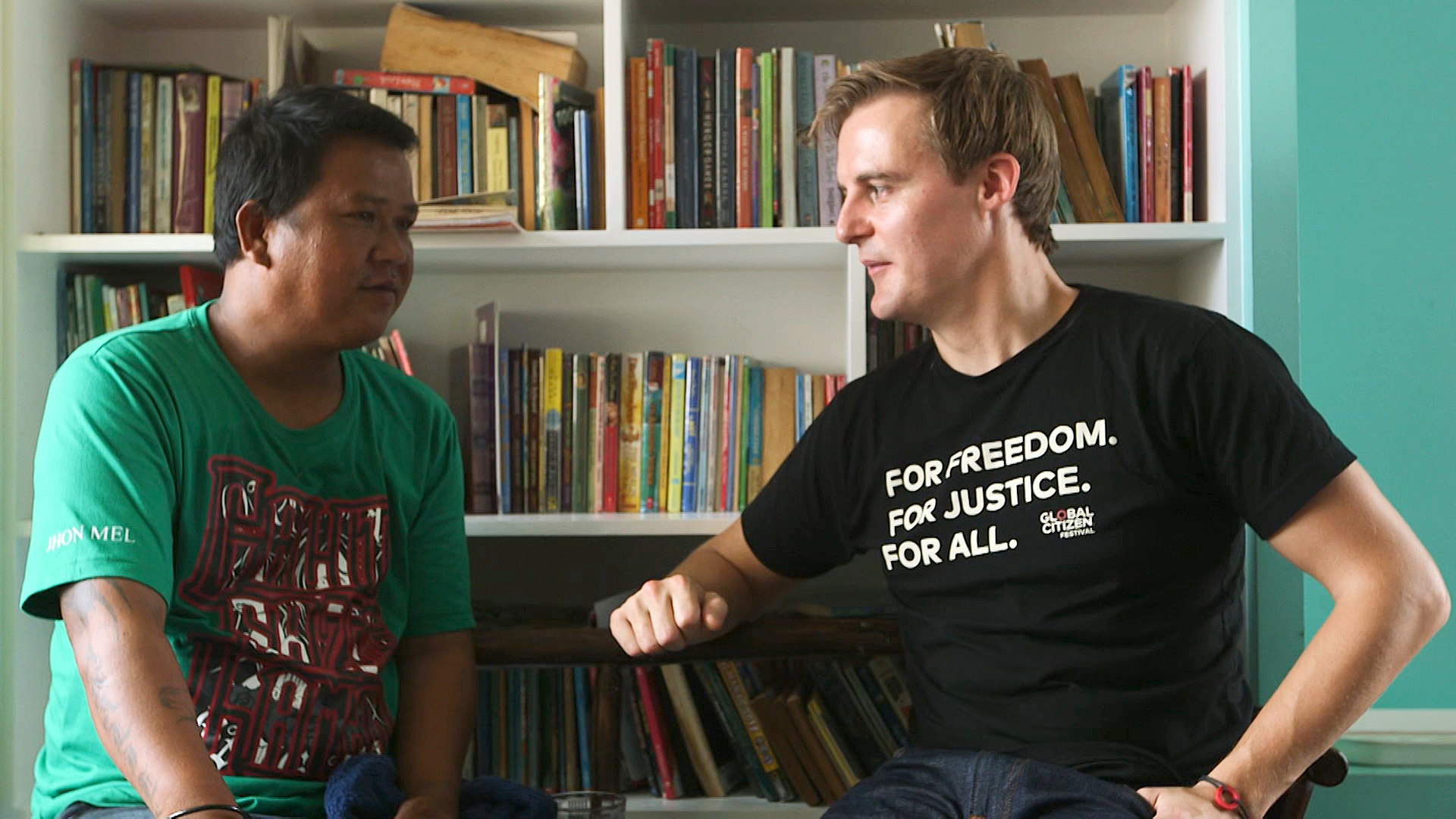 "You know, often we (hold) ourselves back out of our own fear of either who we are, or what we stand for, or what we don't stand for. We think that we have to reach some sort of milestone moment where suddenly it will click and we'll get it. And I realized at that stage that I'm never going to reach that moment. I'm going to have to always strive to achieve change … based on a sheer passion to learn and a sheer inquisition to say 'I'm going to do everything I can to try to change the world'," he said.
Q:
What's the best advice anybody ever gave you?
Click or tap for the answer
A:
My brother once gave me this mantra: "Live dangerously, love lavishly, and serve humbly." And that's stayed with me all my life.
But how did it feel to be a high school humanitarian, not a cool kid, growing up? "I mean, it was much cooler to be a jock. And my brother was a bit of a jock, Nick. He was always head of the rowing squad and everything. And I wasn't really cool or even really bothered about being cool," he said.
"I guess I've always been fairly focused. I've never really worried about what everyone else is doing. I always from a young age wanted to do my own thing."
A trip to South Africa followed in 2002, where Evans set up a program for people to sponsor orphaned children, managing to get Oprah Winfrey involved, before he started education charity the Oaktree Foundation in 2003.
"(I had) this dream that from a tiny acorn, the potential of a young person, could grow this massive oak tree … as Nelson Mandela said: 'Education is the most powerful weapon we can use to change the world.' We want to stand for education worldwide," Evans said, and Oaktree has since built schools and teacher training facilities in countries such as South Africa, the Philippines and Papua New Guinea.
Back in 2006, Evans was studying law at Melbourne's Monash University while also organizing a charity music gig, an Australian version of the Make Poverty History concerts that had started in the U.K. The phone rang, and an Irish voice spoke.
"Hey boys, we're coming to Melbourne. And Bono wants to perform at your Make Poverty History concert," the voice said.
It was Paul McGuinness, U2's then manager, calling to say the band wanted to play with Pearl Jam at the concert later that year, organized by Evans to coincide with the G-20 Summit in Melbourne.
Q:
What was your first concert?
Click or tap for the answer
A:
I was into punk music when I was a kid. Green Day and Reel Big Fish.
"We thought the whole thing was a prank call, because we couldn't believe it. It was beyond our wildest imagination in those days," said Evans. While studying, he and classmate Dan Adams decided to stage the concert and got sponsorship from Australian telco Optus as well as airtime from broadcaster Channel Ten, but they hadn't thought it would be anything more than a local event.
"All of a sudden, the event got international attention at the BBC and CNN picked it up. And a million Australian citizens bought our white armband (to show support). We partnered with World Vision Oxfam, Save the Children and UNICEF. It was like everyone was at it together as part of this whole coalition all committed to this cause that was greater than every single one of us."
How to get a ticket to a Global Citizen event
Instead of buying tickets to events, members of the public earn points by tweeting, emailing or signing petitions and they then use points to enter a draw to win tickets to concerts, sporting or comedy events once they're signed into the Global Citizen website. The organization recommends "actions" based on what issues people are interested in, such as health, education and the environment. People needed to earn 17 points to be put into the prize draw for tickets to the Global Citizen Festival concert held in Central Park last month. Here are some of the current ways members can enter:
Sign a petition to end child marriage:
Members can email decision-makers in Cameroon to make child marriage illegal in the country.
Earns 3 points
Tweet:
Members can tweet world leaders to ask them to help people affected by recent hurricanes and moonsoons via a button on the Global Citizen website.
Earns 1 point
Email:
A template on the Global Citizen website lets people email the World Bank to prioritize investment in toilets and sanitation.
Earns 2 points
Call:
People can call their senator or representative at Congress to encourage them to pledge funding for the eradication of polio directly and for free via the Global Citizen website.
Earns 5 points
The following year, the Make Poverty History event in Sydney attracted the attention of Kevin Rudd, who was then in the running to become prime minister.
"(He announced that) if elected, he would keep his election pledge and double foreign aid. And he kept his promise. He was elected. And over the subsequent years, we saw a $6.2 billion aid increase (in Australia). And when Julia Gillard took over (as prime minister) from Kevin, she kept that promise also. So it (was a) remarkable time for the movement," Evans said.
But it didn't last. "There was a change in government, and six years later, all that new money disappeared," Evans explained in a 2016 TED talk.
"What did we learn? We learned that one-off spikes are not enough. We needed a sustainable movement, not one that is susceptible to the fluctuating moods of a politician or the hint of an economic downturn."
So Evans made it his mission to turn the short-term excitement around the Make Poverty History concerts into a longer-term movement, and founded the Global Poverty Project in 2008, which eventually became Global Citizen. Its concerts coincide with gatherings of world leaders, such as its Global Citizen Week in New York last month during the UN's General Assembly meeting, as well as encouraging people to lobby governments and institutions year-round.
Weeks before the inaugural 2012 Global Citizen concert in New York City's Central Park, Evans' business partner Simon Moss got a call from the event's sponsor. "I'm sorry. We're going to have to pull out," the sponsor said.
But Evans was undaunted.
"The bravest thing I've seen Hugh do was stare down eight to 10 weeks out of the very first Global Citizen festival (with) a sponsor who had just fallen over (and) an artist bill that wasn't complete and have him say: 'We can still do this.' Because every reasonable and rational person around him said: 'No, you can't,'" Moss said.
"It just felt like we'd reached this precipice where nothing was going to happen from here."
Hugh Evans
Organizing something of that scale, in an expensive city, aiming for a high-profile venue and getting the pieces to fit together was terrifying, Evans said. "The sponsors won't commit till the artists commit. The venue won't commit till the sponsors commit. Everything is in this weird self-reliance upon every other element. So to say that I was terrified was an understatement … It made me cast off anything that didn't really matter. I was just able to ignore it and say, 'I've got to be laser-focused'."
Rock band the Foo Fighters were keen, but only if Central Park was booked, Global Citizen co-founder Ryan Gall told "The Brave Ones." He took a call from music manager John Silva, who said: "You know what guys, (lead singer) Dave (Grohl) has a few things left on his bucket list. And playing Central Park is one of them. He said, if you guys can get Central Park, the Foos will play."
But after the sponsor withdrew, Evans felt it might all be over. "It just felt like we'd reached this precipice where nothing was going to happen from here. And I remember so vividly one night just praying. I was like, 'God, just please bless us with this event.' And the next (day), we woke up, and (media mogul) Sumner Redstone invited us to come to his house. One of our head of sponsorship had somehow reached out to him (via) one of his friends, and he took a meeting with us."
Redstone funded the event to the tune of $1.5 million, and they were back on. Neil Young got on board to headline the concert in August, and on September 29, 2012 appeared with The Black Keys, John Legend as well as the Foo Fighters on the Great Lawn of Central Park.
Since the 2012 New York concert, Global Citizen has run music events in the likes of Washington, Mumbai, Munich and Hamburg and says that the millions of actions (tweets, emails, petitions and the like) of its members are having an impact on world leaders to its aim of ending extreme poverty by 2030.
The organization lists the impact of its members' activities online, saying it holds leaders accountable to their promises and it published its first accountability report for its education commitments in July.
But Leslie Lenkowsky, professor emeritus of public affairs and philanthropic studies at Indiana University Bloomington, told CNBC by phone that he felt Global Citizen's approach may be too broad.
"Its theory seems to be: Let's get lots of people to push for all sorts of things and the world will get better, it's kind of a shot gun approach rather than a targeted one. It's OK but it's probably not as effective as it could be," he said.
"It has made me stop for a second and say, you know what, I've got to double down."
Hugh Evans
However, Global Citizen's Vice-President of Global Policy and Government Affairs Michael Sheldrick told CNBC by email that political and public pressure generated by the organization has helped lead to over $30 billion in financial commitments to help the world's poor since 2012. "Global Citizen's ongoing campaigning efforts then focus on ensuring these commitments are actually delivered upon and that politicians and partners are held accountable for their promises," he said.
This year, French President Emmanuel Macron pledged to lead fundraising with President Macky Sall of Senegal to raise $1.3 billion for the Global Partnership for Education, following emails, calls and tweets from members of Global Citizen. The organization's campaigning also led to the Canadian government providing 100 million Canadian dollars ($79.9 million) towards the Global Polio Eradication Initiative.
"It is easy to blame the politicians for inaction but we as citizens still have to give them permission to spend what is ultimately our money," Sheldrick said. "Multiple politicians have told us that in order for them to support measures like increased foreign aid budgets, they need to see the constituency first."
But for all its success as a movement, and for all the political and celebrity connections and support Global Citizen attracted, there was still one person with whom Evans had not connected: Sonny Boy. After he returned from Manila nearly 20 years ago with his Filipino friend's address in his jean pocket, Evans and his mum put his clothes through the wash and the piece of paper was destroyed.
But after his TED talk last year, a woman from a Manila non-governmental organisation got in touch. "'You'll never believe this. It's a small world, but we think we know who Sonny Boy is,' (she said). And I was, like, beside myself. I was like: 'You've got to be joking,'" Evans said.
Q:
What's your favorite mindless entertainment?
Click or tap for the answer
A:
I love to exercise. I love to run, or row. I have a whole bunch of hobbies, but they're a bit dorky. I tried to teach myself to DJ one day, which was fun.
The two met in Manila last month in an emotional reunion, filmed by "The Brave Ones." "Yesterday, seeing Sonny Boy for the first time in 20 years, it was incredibly overwhelming, and I went to bed last night, just thinking to myself, that often we tell the story that in the last 30 years (that) extreme poverty has halved, but in some ways, I think that masks the present reality of suffering for so many people living in extreme poverty.
"Sonny Boy said for himself that he doesn't have hope for his own future. His hope is in his kids. It has made me stop for a second and say, you know what, I've got to double down."
Global Citizen is to set up a long term program in Sonny Boy's name to support education initiatives in his community, Evans wrote in a Facebook post after the reunion.
"It's been 20 years, but it's got to be another 20 years because the only way we're going to end this is through concerted efforts and encouraging governments like the government in the Philippines, encouraging the national community, institutions like World Bank, encouraging major countries, but also just getting our hands dirty and doing it," Evans told "The Brave Ones."
Credits:
Writer: Lucy Handley
Design and code: Bryn Bache
Editor: Matt Clinch
Executive Producer, The Brave Ones: Betsy Alexander
Producer, The Brave Ones: Kevin Kane
Images: CNBC and Getty