As Nvidia gears up to report its latest quarterly earnings this week, one top technician warns of pain ahead on the results.
Shares of the chipmaker have been on a tear, now up more than 64 percent in the past year.
However according to Carter Worth, head of technical analysis at Cornerstone Macro, the stock's big run could be coming to end.
Worth first alludes to a chart of the PHLX semiconductor index, which acts as a proxy for the broader semiconductor industry.
The index has rallied 27 percent in the past year and is a little more than 6 percent away from its all-time closing high of 1,445.90, set during the dot-com bubble.
However, according to Worth's analysis, shares of the semiconductor group are now running into "an inherently difficult level."
"What we know here is that this level is exactly the former high," he said Friday on "Options Action." "[Talking] about a double top prospectively, [which means] before you can exceed a high you likely contend with it.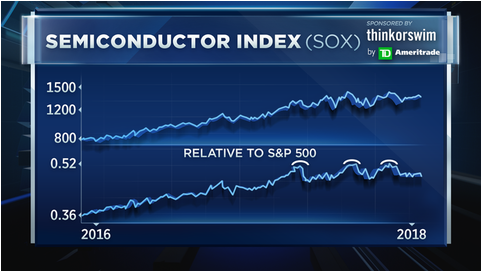 In the past two years, the semiconductor index has surged more than 74 percent, more than double that of the S&P 500 which has rallied 29 percent in the same time period.
Despite the outperformance, Worth's charting reveals that relative to the broader markets the semiconductor index is beginning to show signs of a slowdown.
"What we know is that the semiconductor index has gone on to make new highs and yet the relative performance to the S&P 500 has stayed stuck," he said. "It's deterioration any way you want to look at it."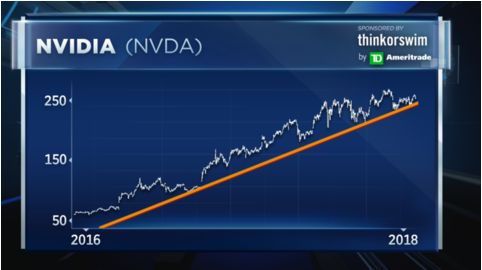 Comparatively, shares of Nvidia — which make up more than 8 percent of the semiconductor index — have soared more than 32 percent this year and are currently the second best-performing chip stock in the group.
However, Worth noted that in the past couple of years, shares of Nvidia have "ricocheted" off their upward trend line suggesting the stock's bullish momentum is now "stalling out."
"Rather than looking like a bounce off the line ... it's compressing and to my eye it looks like the beginning of what should be something unhappy," he said. Shares of Nvidia hit a fresh all-time closing high of $266.91 in June but have fallen 4 percent since.
"I want to bet that NVDA is going to do what Intel did and what some [of the] other big semis did — act poorly on earnings," said Worth.
Shares of Nvidia rose slightly Monday to $256.12.