The Dow Jones Industrial Average could be on the verge of a major breakout.
Veteran technician Ralph Acampora — often referred to as the 'godfather of technical analysis' — says the blue chip index's charts are flashing two particularly bullish signs heading into autumn. Acampora pointed to Wednesday's more than 300-point plunge and partial recovery as one bullish sign.
"It formed what we call a hammer pattern," said Acampora on CNBC's "Futures Now" on Thursday. "That configuration literally means that we could be making a reversal and suggesting maybe a near-term low… The Dow turned the corner, so to speak, at the close."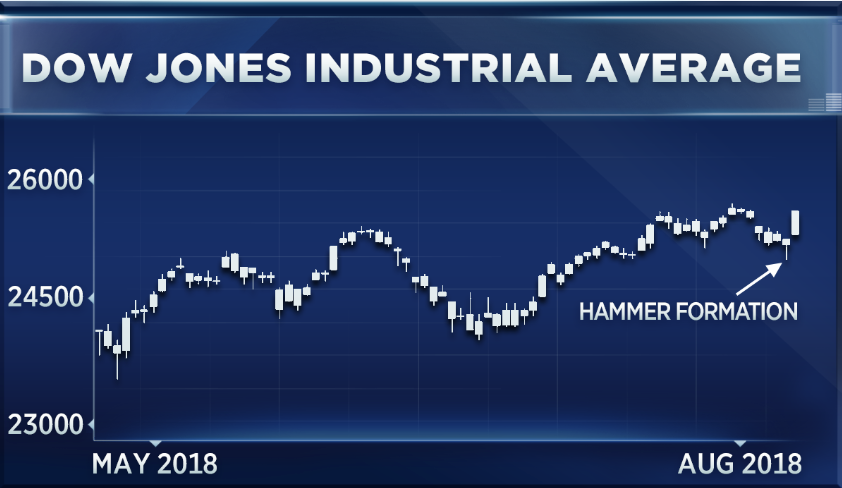 A hammer pattern on a candlestick chart occurs when an index's open, peak and close are nearly the same, while the session low gaps apart from the rest. It means that a sell-off found its bottom, and bounced back during the session.
Even the Dow's lows this year are supportive of Acampora's bullish case.
"It made a low in April, and then another higher low in May and in June it made even a higher low, so [Wednesday's] candle I think I could call another higher low. In technical parlance, that's very, very encouraging," said Acampora.
The Dow's next challenge is to break through a level that it has failed to touch since February, says Acampora.
"We have a little bit of resistance right here at the August 7 high at around 25,692. I think we're going to break through that," he explained. "It looks like we're going to have a run towards the all-time high."
The index moved above that August peak on Friday.
There is one risk to Acampora's bull case, though. The bottom could fall out from the Dow if it drops below its lows four months ago, he says.
"We've had any number of very volatile pullbacks, scary ones at that," he added. But "for me to be really, really negative you'd have to take out that April low."
The blue-chip index hit its lowest of the year at 23,344 on April 2, but has rallied 10 percent since then. It is still a 4 percent increase from its all-time high set on Jan. 26.