Stocks sank on Wednesday as a steep decline in tech shares and worries of rapidly rising rates sent Wall Street on pace for its worst day in eight months.
The Dow Jones Industrial Average closed 831.83 points lower at 25,598.74 as Intel and Microsoft fell more than 3.5 percent each. The Nasdaq Composite plummeted 4 percent to 7,422.05.
The Dow also closed near its lows of the day.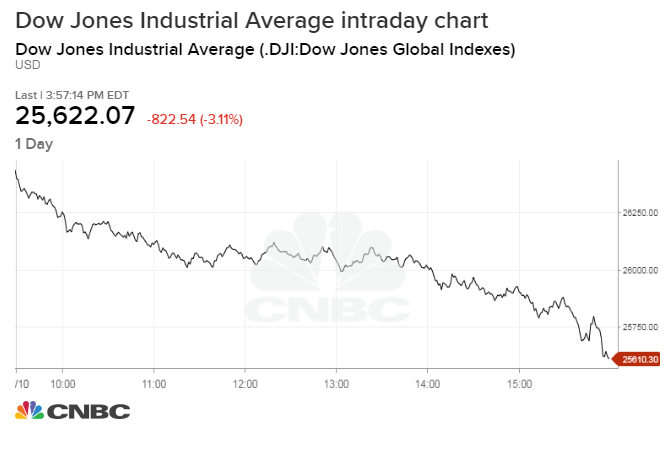 The S&P 500 dropped 3.3 percent to 2,785.68, with the tech sector underperforming. The broad index also posted a five-day losing streak — its longest since November 2016 — and fell below its 50-day and 100-day moving averages, widely followed technical levels.
Both the Dow and S&P 500 posted their biggest one-day drops since early February, while the Nasdaq notched its largest single day sell-off since June 24, 2016.
Stocks have fallen sharply this month. For October, the S&P 500 and the Dow are down more than 4.4 percent and 3.3 percent, respectively. The Nasdaq, meanwhile, has lost more than 7.5 percent.
Rising rate fears and a pivot out of technology stocks have made it a rough last few days. The Dow has dropped four of the last five sessions.
Shares of Amazon declined 6.2 percent on Wednesday, while Netflix slid 8.4 percent. Facebook and Apple also fell more than 4 percent each. These stocks are top performers for the year and for most of the bull market. For the overall tech sector in the S&P 500, it was the worst day in seven years, dropping 4.8 percent.
"People are getting out of the high-flying tech names right now," said Larry Benedict, CEO of The Opportunistic Trader. "I think people are under-hedged; there could be more pain ahead."