Stocks rose on Monday, erasing sharp losses from earlier in the day, as shares of technology companies posted strong rebounds across the board.
The Dow Jones Industrial Average closed 34.31 points higher at 24,423.26, erasing a 507-point drop. The S&P 500 rose 0.2 percent to 2,637.72 while the tech-heavy Nasdaq Composite jumped 0.7 percent to 7,020.52.
Facebook shares rose 3.2 percent while Amazon, Netflix and Alphabet all rose more than 0.6 percent. Apple, meanwhile, erased a more than 2 percent pull back to close 0.65 percent higher.
Shares of Apple initially fell after a Chinese court granted Qualcomm an injunction against the iPhone maker. It is unclear how the injunction will impact Apple's sales in China, however. Qualcomm says the order bans Apple iPhone imports and sales in China. Apple, meanwhile, says it only impacts sales of phones running an older operating system.
At its lows of the day, the S&P 500 had dipped below its low reached in October during the previous vicious market sell-off. These technical breakdowns typically lead to more selling as many computer programs are set to dump stocks on those levels.
S&P 500 since late October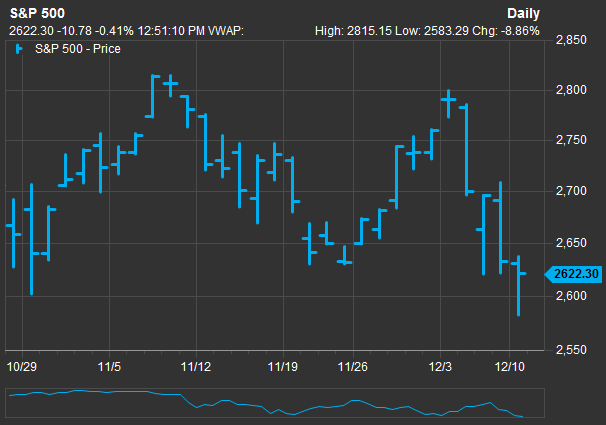 Source: FactSet
Traders pointed to a number of reasons for the initial selling, including a flattening yield curve and a delayed Brexit vote in the United Kingdom. Stocks fell to their lows of the day after UK Prime Minister Theresa May announced the delay of a key Brexit vote in the country's parliament. Originally, it was scheduled to be held Tuesday.
Meanwhile, the spread between the short-term 2-year Treasury note yield and its 10-year counterpart further narrowed, potentially signaling an economic slowdown is ahead. Last week, the 3-year Treasury note yield broke above the 5-year rate. This "yield-curve inversion" stoked fears that a recession could be on its way.
But strategists at MRB Partners think investors might be overreacting to the moves in Treasury yields. "Markets are now discounting greater weakness than we expect next year," they said in a note. "Our neutral stance on equities and underweight on fixed income corresponds with our expectation that stocks will outperform bonds in the year ahead, albeit in choppy fashion."
Monday's moves come after a volatile week for investors. The Dow, S&P 500 and Nasdaq Composite all posted their worst weekly performances since March last week, falling more than 4 percent each, as worries and confusion about the ongoing U.S.-China trade war and fears of an economic slowdown gripped Wall Street.