Property mogul Zhang Xin's story is a classic "rags to riches" tale. Growing up in Beijing during the Cultural Revolution, the one-time factory worker's ambition was to be a peasant, a "glorified" job in the eyes of Mao Zedong's communist regime.
Now, together with her husband Pan Shiyi, her net worth is around $3.3 billion. She's regularly named one of the top businesswomen in the world and her real estate company SOHO China is credited with bringing color to Beijing's cityscape. Yet Zhang's was a life that started in monochrome.
"In spring time we'd get a sandstorm and the whole sky would be all gray."
Zhang Xin
Her upbringing in 1960s Beijing was a world of communist gray. Gray bricks made up gray buildings and everyone wore the dull uniform of Chairman Mao. Even nature was gray. "In spring time (we'd) get (a) sandstorm and the whole sky would be all gray," the property developer told CNBC's "The Brave Ones".
Under Mao, there were no stores or restaurants and everyone was paid the same, regardless of education. Zhang's childhood was one of dull uniformity and hardship: As a young girl she and her mother were sent to the countryside to work, while her father and brother remained in Beijing.
Q:
What's your favorite piece of architecture in the world that you didn't build?
Click or tap for the answer
A:
The Great Wall. That's always my favorite.
Contrast this bland background with China's modern-day capital and the city is almost unrecognizable today: A world of skyscrapers, lights and color, due in part to SOHO China, a business she founded in 1995 with Pan, now its chair. Zhang is chief executive and together they are majority owners of the business. Dubbed "the woman who built Beijing," Zhang is known for her work with the world's hottest architects in creating buildings that stand out from the skyline.
The white curves of Zaha Hadid's Galaxy SOHO (it stands for Small Office Home Office) and the sleek towers of office building Wangjing SOHO — incorporating 50,000 square meters of gardens — are two of the structures that make up the 55 million square feet (16.8 million square meters) of real estate in Beijing and Shanghai she has developed. They are "symbols of kind of a Chinese version of capitalism. Fluid, technologically super-advanced (and) part of the future rather than the past," according to architecture critic Nicolai Ouroussoff, who spoke to "The Brave Ones".
When she was 15, Zhang and her family moved from Beijing to Hong Kong, a world of lights, noise and color far away from mainland China, and a place she could make money for the first time. "We did not know what other way to live, than just finding whatever job was out there to make a living," she said. Zhang worked in factories for five years, moving around to make extra money.
Even though her work was monotonous, it gave her a freedom she'd never had. "I really felt free in Hong Kong … I could buy anything I wanted to buy. I could eat anything I wanted to eat. And I could wear anything I wanted to wear."
Hong Kong being a British colony at the time meant Zhang had the chance to move to the U.K. to study. But arriving there was a shock. "Not only I did not know anyone, I also (didn't) speak the language. So for all my dream(s) of getting (an) education and to be away from (the) factory, I ended up on this, almost a new planet. And I remember the first night I got there, I sat on my suitcases and cried. Because I really felt scared," she said.
Again she scrambled for cash, so she worked in a traditional British fish and chip shop run by a Chinese couple, in her limited English offering people "salt and vinegar" for their fries. She found entertainment in watching then Prime Minister Margaret Thatcher in televised parliamentary debates. "I remember I was in awe watching her and thinking: 'How could she speak so well? How is that possible that she was debating with this roomful of hundreds of men?' She was so brave and she was so good. And I just had her… as my role model."
Zhang Xin is born in Beijing.
She and her family move to Hong Kong, where Zhang spends several years working in factories.
Studies economics at Sussex University.
Graduates with a master's in development economics from Cambridge University.
Co-founds real estate company Hongshi with husband Pan Shiyi.
SOHO New Town is developed, with a gross floor area of 480,000 square meters.
Hongshi becomes SOHO China.
SOHO wins the first public bid for a parcel of land in Beijing's Central Business District, which then becomes mixed-used development Chaowai SOHO.
Establishes education organization SOHO China Foundation.
SOHO's IPO raises $1.9 billion on the Hong Kong stock exchange.
Zhang's family buys a stake in New York City's Park Avenue Plaza, worth $600 million.
SOHO switches strategy from build and sell, to build and lease.
Zhang is part of a conglomerate investing $1 billion into the General Motors building in New York.
Launches the SOHO China scholarships, for Chinese studying overseas.
The company launches SOHO 3Q, shared office centers.
Sells SOHO Century Plaza in Shanghai for 3.2 billion renminbi ($477 million), with Chair Pan Shiyi saying: "The market is hot, why not catch the opportunity and make money," ahead of the sale.
"I really felt free in Hong Kong… I could buy anything I wanted to buy. I could eat anything I wanted to eat. And I could wear anything I wanted to wear."
Zhang Xin
After a bachelor's degree in economics at Sussex University and a master's in development economics from Cambridge (both funded by grants and scholarships), she went to work for Goldman Sachs in London, before stints in Hong Kong and New York City. But having taken several Chinese companies public, she had an underlying feeling that something exciting was about to happen in her own country and had a yearning to return. The final catalyst was meeting her husband to be: real estate developer Pan who had never left China and with whom she had a whirlwind romance.
"We met. We fell in love, and four days later he said: 'I think you should be my wife.'… We decided to get married," she said. "I always knew what I wanted to do, and I always go for what I wanted to do."
But the course of true love did not run smooth: the couple went into business together but clashed. "Our values are different. What he believed can be done (is) different from what I believe can be done … It turned out to be terrible for the partnership and for the marriage," Zhang said. After the arguments continued for two or three years she took a break, going to England to think over her life.
"I went to spend some time with my friends, and I remember just waking up in the morning one day in the countryside in England and thinking: Do I want the marriage or do I want the business? Do I still want to live in China?"
The answer to Zhang's question was that she wanted her marriage to work. "I came back. I told my husband: 'You know what? I am going to quit the job. You go ahead and do your job. I'm going just stay at home. Be a housewife, and hopefully be a mom'."
Eventually Pan became so busy that Zhang returned, and the couple established a way forward. "I realized over the years that what my sensitivity suits better is in designing the product, designing the buildings … And his talents are really in, when we build something, how can we sell (it), how can we lease?"
The early days were a struggle. "It was about, how do we get land? How do we get financing? How do we convince people that we can do it?" They would hope that the factory owners they pitched to would trust that they could get funding in a world where no-one had the money to buy land.
"Today, of course, it's unthinkable that anyone can start any business that way. But that's how, back in the mid-90s, Chinese business started. By just telling people the vision and asking people to believe in the vision and start working on it," Zhang said.
Q:
Who's your role model?
Click or tap for the answer
A:
When I was a student, Mrs. Thatcher was my role model, and she continues to be my role model.
Zhang made her name with Commune by the Great Wall, a sequence of villas (now a boutique hotel) in a valley next to a section of the Chinese landmark about 70 kilometers north of Beijing. Designed by 12 Asian architects, Zhang was awarded the Individual Patron of Architectural Works prize for the project at the Venice Biennale in 2002.
"Before that, I had been building buildings. But really (the Commune) was really the showcase of my passion for architecture. I first found this valley by the Great Wall. And I thought (that) this is a great place to invite some great architects, who (would) each design something according to their imagination," she said.
She sent letters to 12 emerging architects from Japan, Thailand, Hong King, Singapore, South Korea and China, some of whom had not been to the country before, telling them: "You can do your own (design) program. I'll just build."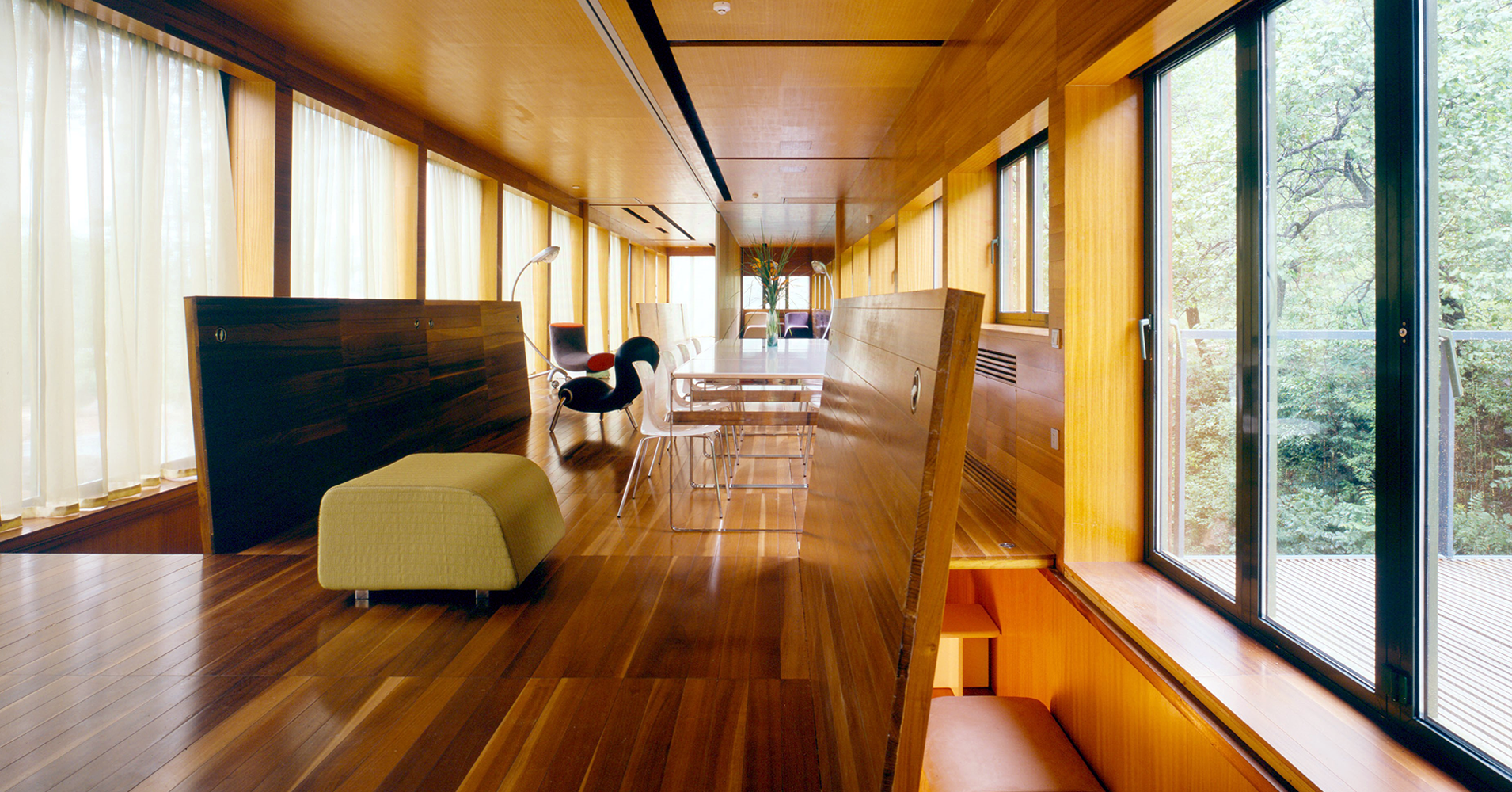 One of them, Japanese architect Kengo Kuma, suggested using bamboo. "He saw the construction quality wasn't up to the Japanese standard. So he thought: I must choose a material that does not require (a) precise construction method. So he came with the idea of bamboo. The bamboos are natural, so if they are not straight, it's not a problem." Kuma's Bamboo Wall House has six bedrooms, an overwater tea room and an open-plan kitchen and dining rooms, and is promoted as a place for corporate meetings.
The See and Seen House, meanwhile, was designed by Chinese architect Cui Kai, a steel and glass structure where the host's bathroom has floor-to-ceiling windows overlooking the mountains, and guests share facilities at the central Commune Club, which has 10 private dining areas and gardens. All have private access to an unreconstructed portion of the Great Wall.
Other early projects include SOHO New Town, a residential and commercial area east of the China World Trade Center in Beijing, and Jianwai SOHO, a complex of 20 high-rise towers, rooftop gardens and four villas, the first phase of which opened in 2003.
While 2002 represented a career high for Zhang, the next year was to prove more difficult. "I had lots of failures along the way. It was not like always sunny - there are plenty of rainy days. My first failure came in 2003 when I tried to take the company public."
Zhang went back to her old employer, Goldman Sachs, which showed an interest. "But I remember China was so early, back in 2003. Like, Wall Street investors had no idea of how to assess, evaluate Chinese real estate developer(s) which had (created) a business model so different from the outside. Yes, the people closer to China, the bankers, felt excited, but largely the investors in Wall Street were not ready for that."
Four years later and Wall Street was ready. The business raised $1.9 billion when it went public in 2007, and valued Zhang and Pan themselves at around $4 billion, just 12 years after they founded SOHO in 1995.
"I always see myself as a bridge between the great talents around the world and China."
Zhang Xin
In 2012, SOHO China announced a major switch in its business model, from one of "build-sell" to "build-hold," leasing real estate instead of selling it, capitalizing on the demand for office space in Beijing and Shanghai and aiming to maintain a steadier cash flow. (In 2016 this strategy resulted in a rental income of 1,511 million renminbi ($225 million), according to its annual report.)
Later in 2012, Galaxy SOHO, a partnership with the late Hadid opened, a striking sequence of four curved buildings connected by walkways. "My collaboration with Zaha Hadid started 14 years ago when she had not really built that much, and nor had she really done anything in Asia," Zhang explained.
"Pretty much all the great architects of our generation were doing some work in China. And she was about the only one who hadn't really done anything … I always see myself as a bridge between the great talents around the world and China."
"She and I struck a really close friendship, partly maybe because we both are women in this very male-dominated world … We saw ourselves as kin(dred) spirit(s). Because we both have that desire to do something that hasn't been done and not quite believe (it when) people tell us: 'that cannot be done'. I think it's that kind of mutual respect and almost a comradeship (that) really brought us together," she added.
Leeza SOHO, another collaboration with Hadid's company, is currently under construction in Beijing, a tower of two halves joined by a central walkway and with a 190 meter atrium running almost the full height of the building.
Being a woman in the traditionally male world of construction never really felt strange to Zhang. Growing up in China, Zhang saw women working under Mao Zedong's diktat that "Women hold up half the sky". "Men and women all worked. So the idea of man goes to work, women stay at home and that kind of division of labor was not here in China during my time of growing up," Zhang said.
Zhang gave designer Andreas Thomczyk a simple three-word brief for SOHO 3Q, the coworking brand she launched in 2015: "Hip, warm and easy". By December 2016, its 17 centers had an average 85 percent occupancy and two more have since launched. But the past few years have seen a dramatic fall in pre-tax profit for the company as a whole, from almost 12.5 billion renminbi ($1.85 billon) in 2013 to just under 2 billion renminbi ($298 million) in 2016, as rental income cannot equal sales revenue.
The year 2015 was particularly tough for the business, with pre-tax profit falling to 1.4 billion renminbi ($209 million) from 6.7 billion renminbi ($1 billion) a year previously, but this "fully reflects this moment in our transition," Pan said at the time. SOHO has disposed of two Shanghai office developments over the past year or so and is now banking on its new shared office strategy, with Zhang telling CNBC via email that the business is "confident that the growth of China's private sector will coincide with the need for more prime office spaces." In future, tech companies and start-ups will stick to large cities like Shanghai and Beijing, Zhang told CNBC in 2016 and she has also cited office developments as being in demand over malls.
"We were 'PHDs': poor, hungry and determined. Financial aid transformed our lives."
Zhang Xin
Beyond China, Zhang's family has invested in New York City, buying a $600 million stake in the Park Avenue Plaza in 2011, and joining a conglomerate to invest around $1 billion in the General Motors building in 2013. "My next excitement is to build around the world," she told "The Brave Ones". "I want to take the skill set that I have of working with, creative people and bring them to other parts of (the) world and cities that I haven't been."
Europe is an attractive prospect, in spite of Brexit, Zhang told CNBC.com in an email, with London, Paris and Berlin particularly appealing. "Europe has been the center of the Western world for the past 500 years, and its cultural significance as well as its political and historical stature remain strong," she said.
Zhang told "The Brave Ones" that she had bid on a piece of land in London, but would not be drawn on its location or whether she had been successful when contacted by CNBC via email. Her strategy remains to buy in low cycles when developers are less keen to invest. "That's what we call buy low. And then you sell high … So that's the game, right? So I am looking around for those moments. And at the moment, I think the best places are actually in Europe."
Q:
What did you want to be when you grew up?
Click or tap for the answer
A:
Growing up in China during Cultural Revolution, I wanted to be a peasant. That's what we were all taught.
However, the Chinese government has cracked down on money moving offshore, with a further informal tightening this month by the National Development and Reform Commission and the Ministry of Commerce, according to a Reuters report.
Given this move, Zhang's European dream may be hard to realize, according to Andrew Collier, managing director of Orient Capital Research. "Property development is not considered terribly strategic overseas for China, so it will be interesting to see whether Zhang Xin and Pan Shiyi can pull off any major deals in Europe," he told CNBC by phone.
"The smart money is concerned about the future of economic growth, the future of the property market and the value of the currency," Collier added, and given Beijing's crackdown on overseas investment, he imagines SOHO will continue its move towards an asset-light business model.
Zhang has also become a philanthropist, writing in the New York Times in 2014: "For many Chinese of my generation, our first point of contact with Western philanthropy was the financial aid we received when we studied abroad. Very few of us had money — most only had raw ambition. We were 'PHDs': poor, hungry and determined. Financial aid transformed our lives." As a result, she decided to focus her charitable efforts on education and in 2014 launched the SOHO China Scholarships, a $100 million initiative giving financial aid to Chinese students at universities such as Yale and Harvard.
"I always see problems, right? But I see this is my role: I'm the one who's safeguarding the standard, and I really should be the one who goes for the best."
Zhang Xin
After 20 years in real estate, Zhang still scrutinizes her buildings under construction. "I do small things. I will come in here (and) I would say: 'Look, the chairs are placed wrongly. And the form of the letter is not quite right.' And, the architects will tell you it's a pain to work with me. And all my staff will tell you: 'It's a pain for her to go to the construction site.' I always see problems, right? But I see this is my role: I'm the one who's safeguarding the standard, and I really should be the one who goes for the best."
What's her advice to people getting on the career ladder now? "The advice I gave my sons and my SOHO scholars is the same: 'You should do the things that you want to do in life, and don't worry about what other people expect you to do.' They might expect you to be a great businessman, to be this and that."
"But if you want to be a soccer player, go ahead to do that. If you want to be an artist, go ahead (and) do that. You would only do the best if you want to do it so badly. And that, I think, was the guiding principle for my life."
Credits:
Writer: Lucy Handley
Design and code: Bryn Bache
Editor: Matt Clinch
Executive Producer, The Brave Ones: Betsy Alexander
Producer, The Brave Ones: Robin Sherman
Images: CNBC, Getty and SOHO China