AT&T's merger with Time Warner, combined with better-than-expected wireless business trends and a lower corporate tax rate, presents a compelling opportunity for investors, according to Bank of America Merrill Lynch.
Analysts at the brokerage upgraded shares of the telecommunications giant to buy from neutral on Monday, advising clients to pick up the "new and improved AT&T" at record low price to earnings levels.
"AT&T is fundamentally sound, with a stable subscription-based business model," analyst David Barden said in a note. "Historically, the stock has outperformed during periods of M&A and wireless margin expansion fueled EPS growth and during periods of market uncertainty when AT&T's dividend yield and predictable business model are highly valued."
Barden maintained his price target of $37 (representing 19 percent upside from Friday's close), but revised higher his 2018 revenue and earnings per shares forecasts to $170.57 billion and $3.56, up from his prior estimates of $153.86 billion and $3.36 respectively.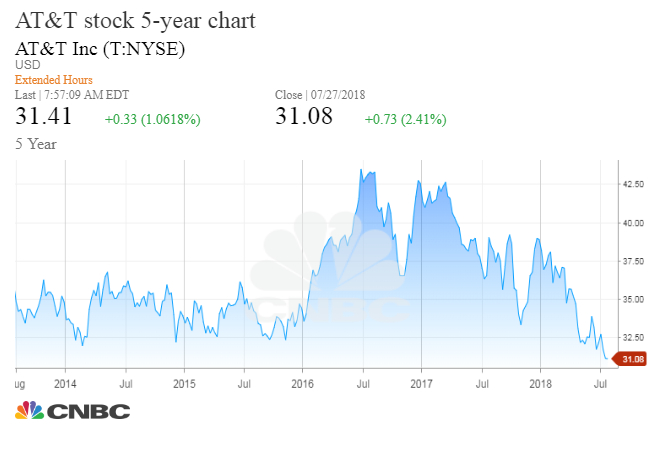 Shares of AT&T rose 2.96 percent on Monday following the optimistic Bank of America note.
Much of the increase to the sales and earnings numbers, the analyst said, was a direct result of AT&T's merger with Time Warner, where investors can expect positive momentum in wireless, improved margin performance in entertainment and seasonal strength in Warner Media.
The cash and stock merger deal, worth roughly $81 billion, closed on June 14 after U.S. District Judge Richard Leon rejected the Department of Justice's attempt to thwart the deal.
"We expect AT&T to file pro forma financial statements in the coming weeks which should improve Street models (which we believe are generally too low) and add conviction to numbers," Barden added. "We have seen super-normal trading volumes recede and we believe the overhang of potential incremental Time Warner shareholder selling is now behind us."
The DOJ has appealed Leon's ruling but the analyst isn't worried.
"One legal counsel we consulted with believes that there is only a thin chance the DoJ is able win its appeal let alone unwind the deal," stated the note. "They believe that arguments will likely be held in November with a ruling in late December or early January. On that basis, at this point it appears the appeal is more of a headline risk than actual fundamental risk."
Barden also noted that when he downgraded AT&T just over a year ago, there was "greatly diminished" conviction that corporate tax reform would be accomplished in 2017.
Now, with President Donald Trump's landmark Tax Cuts and Jobs Act, and a corporate rate pared to 21 percent, AT&T is generating an extra $3 billion of annual free cash flow while earnings have received a persistent 20 percent benefit.