General Electric said second-quarter profit fell 30 percent from last year because of weakness in its power division.
GE reaffirmed its financial outlook for the year, saying it continues to expect full-year earnings of $1 to $1.07 per share.
GE stock dropped more than 4 percent in trading Friday, closing at $13.12 per share, even as the decline in profit was less than Wall Street feared.
Earnings in the latest period were fueled by GE's aviation and health-care businesses, while the company said its power market continues to be challenging, with orders down 26 percent from the same period last year.
CEO John Flannery said in a statement that GE's review of its businesses is "now complete."
"GE is moving forward to implement the strategy and structure we laid out in June," Flannery said.
Shares of GE have fallen more than 47 percent in the last year and were at $13.73 as of Thursday's close. The last quarter saw the stock stabilize somewhat. The shares have slid just 5 percent over the last three months.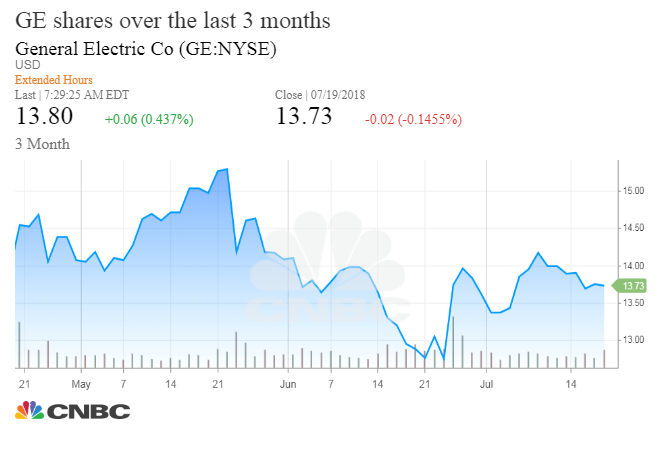 For the second quarter, the company posted profit of 7 cents per share, down from 10 cents a year earlier. On a continuing basis, GE's net income was 8 cents per share in the latest period, falling from 12 cents.
On an adjusted basis, GE earned 19 cents per share, which was higher than the 17 cents per share that analysts surveyed by Thomson Reuters were expecting.
Second-quarter total revenue rose 3 percent to $30.1 billion, greater than the $29.31 billion expected by Thomson Reuters.
GE's aviation, transportation and health-care divisions all saw profit growth, continuing to turn in steady results. But the conglomerate's power and oil and gas units reported profits were down 58 percent and 39 percent, respectively, from last year. The results for both of the struggling business units were better than Wall Street expected, despite the declining profits.
Wall Street calls for either a suspension or a cut to GE's dividend put pressure on the stock in the second quarter. While Flannery said in May that he would "have to see how this plays" out before deciding whether to make a change to the dividend in 2019, GE said on June 26 that it would "adjust" the dividend once it completes the spinoff of its health-care business.
The company revealed in May that it expects no profit growth this year in its already stagnant power business, depressing the shares further. GE was also removed as a component in the Dow Jones Industrial Average in June, after being a part of the index for more than 100 years.
GE's deal in May to merge its transportation business with Wabtec was praised by investors, with the $2.9 billion in cash to GE seen as a welcome respite. The company expects the merger to close in early 2019.
Correction: GE's oil and gas unit reported profit was down 39 percent. An earlier version misstated the percentage.