While short-term concerns over Deutsche Bank were put to one side on Monday as the embattled German lender performed better-than-expected in the European Central Bank's (ECB) latest stress tests, longer term worries still continue to rattle investors.
Deutsche shares climbed a modest 0.2 percent in early deals after it registered a core tier 1 capital ratio of 8.14 percent at Friday evening's test. This figure is essentially the cash buffer it has in the event of a financial crisis. Shares, however, tumbled 1 percent late morning.
The assessment looked at the bank's 2017 balance sheet and tested how it would stand up to the strain of what the ECB described as "adverse market developments."
In 2016, Deutsche Bank saw its ratio drop to 7.8 percent, ranking it as one of the lowest in the health check. However, the 2018 results still placed the German lender at 40th place out of the 48 lenders tested and analysts have warned that the progress shown may not be enough.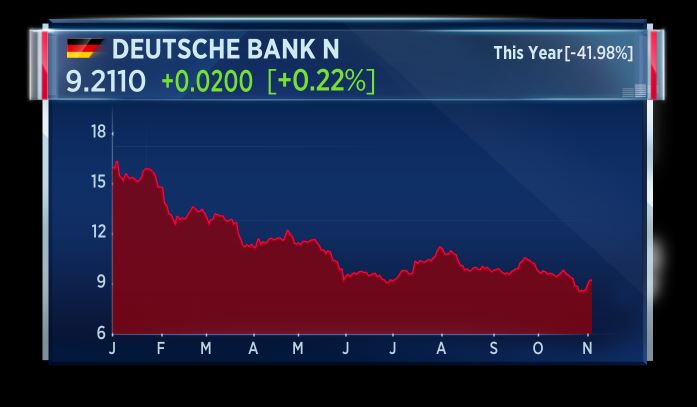 "The problem in the euro zone is a dearth of bank lending," consultancy High Frequency Economics said in its weekly research note Monday.
"(The) stress tests, published on Friday, show some progress toward bank recapitalization, although not enough to prevent some of the strongest banks in Europe from flirting with mandatory recap (recapitalization) levels in the adverse scenario," the firm said.
ECB vice president Luis de Guindos told a conference in Brussels on Monday that a number of euro zone banks, holding about 40 percent of the sector's assets need to strengthen their capital positions.
"Banks with core capital ratios in the adverse scenario below 9 percent display a weaker, though still satisfactory, capital position," de Guindos said.
"These 12 entities, representing almost 40 percent of total assets of the sector, should increase robustness and enhance capital positions to face challenges ahead and will thus be closely monitored," he added.
On Friday, James von Moltke, the chief financial officer of Deutsche Bank, said his company had shown a "greater resilience across market, credit and operational risk" despite tougher tests than what was seen two years ago. "We have the liquidity and capital resources to support profitable growth," he added in an official statement.