Stocks fell for a fifth straight day on Friday after the U.S. government released employment data that badly missed expectations, adding to growing concerns that the global economy may be slowing down.
The Dow Jones Industrial Average pulled back 22.99 points to 25,450.24 as Exxon Mobil and Pfizer lagged. The S&P 500 fell 0.2 percent to 2,743.07 as the energy and consumer discretionary sectors declined. The Nasdaq Composite slid 0.2 percent to close at 7,408.14.
Equities fell sharply at the start of the session before paring losses. At its low of the day, the Dow was down 220.77 points while the S&P 500 had lost nearly 1 percent.
The indexes posted their biggest weekly declines of the year. The major indexes all dropped more than 2 percent this week. The Nasdaq snapped a 10-week winning streak, while the Dow notched its second weekly decline of the year.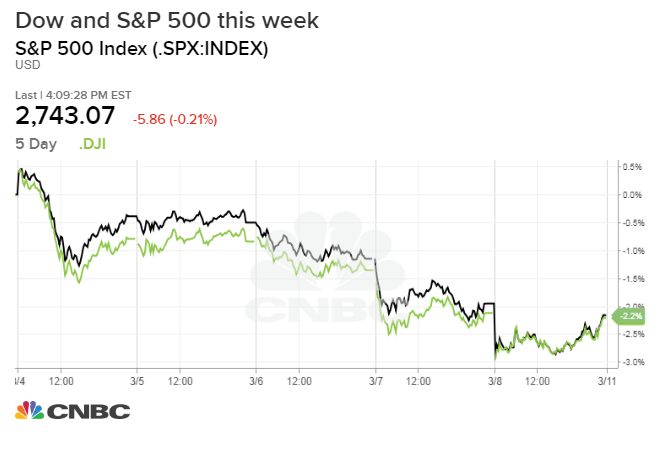 The U.S. economy added just 20,000 jobs in last month, marking the weakest month of jobs creation since September 2017. Economists polled by Dow Jones expected a gain of 180,000.
"February's anemic 20,000 new jobs will inevitably exacerbate widespread fears of slowing economic growth, making it harder to be optimistic about corporate earnings," said Alec Young, managing director of global market research at FTSE Russell. "All in all, there's little in this report to excite investors."
The data come amid growing concerns about the global economy possibly slowing down. Data out of China showed its exports slumped 20.7 percent from a year earlier, far below analyst expectations and wiping out a surprise jump in January.
Analysts cautioned that data from China at the beginning of the year may be distorted by week-long Chinese New Year public holidays, which started in early February this year. In 2018, Chinese New Year holidays started in mid-February.
The weak data all come less than 24 hours after the European Central Bank slashed its growth forecasts for the euro zone and announced a new round of policy stimulus.