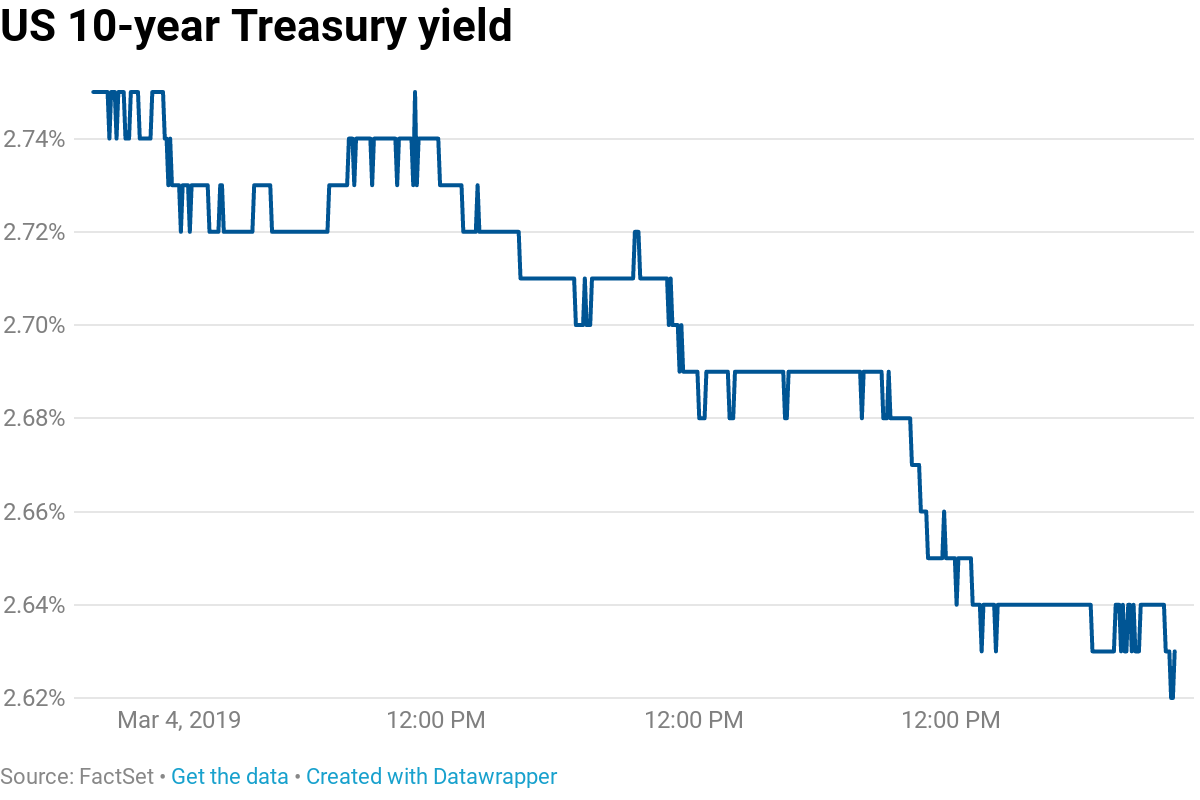 U.S. government debt yields gyrated on Friday after the Labor Department said the U.S. economy added far fewer jobs than expected, but wages moved higher in the month of February.
At 4:09 p.m. ET, the yield on the benchmark 10-year Treasury note was slightly higher at around 2.628 percent. The benchmark rate hit a session low of 2.607 percent following the report's release. Yields move inversely to prices.
Job growth ground to a halt in February, with nonfarm payrolls increasing by just 20,000 even as the unemployment fell to 3.8 percent. February was the worst month for job creation since September 2017, though average hourly earnings advanced more than expected. Economists had expected 180,000 nonfarm payroll additions.
Average hourly earnings increased by 3.4 percent on a year-over-year basis, the best of the economic recovery that began nearly 10 years ago. Economists had been expecting an increase of 3.2 percent. Average hourly earnings increased 11 cents to $27.66, a 0.4 percent increase from the prior month.
"Generally you don't see the economy downshift from 300,000 to 20,000. This in conjunction with the jobless claims number that has been drifting higher; momentum in the job market is probably slowing," said Mike Feroli, chief U.S. economist at J.P. Morgan Chase. "I think in a way it could all be related to the fact that it's a very tight labor market and it's more difficult to fill vacancies and it's hard to draw people back into the labor market."
Housing starts and building permits figures for January are both expected to follow later in the trading day.
U.S. investors swarmed into sovereign debt in the prior session after Europe's central bank cut its GDP forecast, rekindling fears that a slowdown overseas could send shock waves into the American economy.
But where the European Central Bank took investors mostly by surprise was in its decision to announce a new round of stimulus and push back its timeline for future rate hikes "at least through the end of 2019." It also lowered its inflation projection to 1.2 percent, well below its target rate of just under 2 percent.
ECB President Mario Draghi didn't try to sugarcoat the situation either, telling reporters Thursday morning that "the weakening in economic data points to a sizable moderation in the pace of the economic expansion that will extend into the current year."
Unlike peers, Europe has used the ECB's easy monetary policy as a crutch to boost growth since the financial crisis. The U.S. Federal Reserve, in contrast, has hiked rates several times over the past few years as the American economy collected itself in the aftermath of the recession.
— CNBC's Sam Meredith and Jeff Cox contributed reporting.